Musical Directors 1959-2022
"After Amy Pratt [see History] two younger men took the helm for shorter periods. Paul Ferguson had been an organ scholar at New College Oxford and when appointed, was doing further musical research. After only three years he responded to a call to the Church of England ministry… and became Precentor at Westminster Abbey [and later at] York Minster and [subsequently became] Archdeacon of Middlesborough.
He was followed by Gordon Pullin, a nationally recognised tenor soloist, who had performed with us on a number of occasions …. Gordon .. made recordings of the English Tenor repertoire which … runs to 8 volumes …. Sadly for us another career move, in the teaching profession, took him south and we sought another leader.
Another distinguished organist was Simon Russell who, having been the Society's rehearsal accompanist, became Musical Director in 1981, a post which he filled for some 16 years. During his "reign" the society continued to present performances of the standard choral repertoire but also took steps into the "unknown" (the twentieth century no less!) including works by Duruflé, Vaughan Williams and John Rutter.
When Simon's full-time job caused him to leave the district in 2000, the Society was fortunate enough to obtain the services of yet another organist, Jim Wrightson (who had accompanied one of the Society's concerts when Simon was in charge). During the period he [was] with us the Society ..[grew] considerably … Jim 'retired' from his Music Director role at the end of the 2014 season after a long and fruitful time at the society.
In September 2014 we welcomed David Bebbington
Though the works David directed for HCS (see Recent Concerts) consisted mainly of classical choral music he included a number of more modern pieces, for example the programme for February 2019. Concerts were accompanied by either piano, organ, or small chamber groups for whom he would arrange the scores. He brought youth and vigour to his always carefully prepared rehearsals, encouraging us also to do our homework in between. He enabled us to rebound from the Covid interruption and our last performance with him in 2022 was one of our best. Thereafter David's associations with the Universities of Chester and Cardiff, and his increased involvement with the latter made it impossible for him to continue with HCS after May 2022.
This February (2023) we welcome Russell Medley as our new Conductor and Director of Music. His photo and c.v. are on the Musical Director page.
Accompanist – Victoria Wells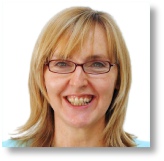 Victoria was a pupil at West Kirby Girls' Grammar School. She studied the piano with Heather Slade, gaining her ARCM at the age of 16. She went on to study with Rizard Bakst and gained a degree in music at Liverpool University. One of her earliest public performances was as a duetting partner with the renowned pianist Stephen Hough. She has taught at Liverpool University, Huyton College, and Birkenhead Sixth Form College.
Before becoming Hoylake Choral Society's spirited and impeccable rehearsal accompanist Victoria has acted as accompanist for several other local musical organisations including the Liverpool Philharmonic Choir.